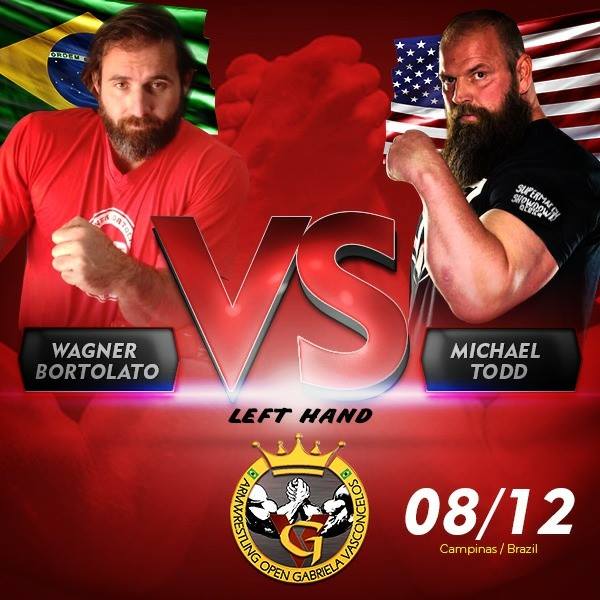 Date: 8 Dec at 09:00 – 9 Dec at 13:00 UTC-02
Location: Avenida Nossa Senhora de Fátima, 723, Taquaral, Campinas – SP, 13076-000, Brasil
Schedule:
Friday (12/7) – Weight ins from 6pm to 8pm – Host hotel
Saturday (12/8) – Weight Ins from 9am to 11am – Venue
Saturday (12/8) – Competition starts at 1pm – Venue
Saturday (12/8) – After Party from 10pm to 2am – Venue
Sunday (12/9) – Workshop with Michael Todd from 11am to 1pm – W Gym
International Vendettas
Michael Todd x Paulo Massud (right arm)
Michael Todd x Wagner Bortolato (left arm)
Rebecca Todd x Kelly Cordeiro (left arm)
Rebecca Todd x Juliana Soares (rigth arm)
Weight Classes:
Men (both arms): 65kg, 75kg, 85kg, 95kg, 105kg and +105kg
King of the Table
Ladies (both arms): 60kg, 70kg and +70kg
Queen of the Table
Youth Men U21 – 80kg and +80kg
Master/Amateur Men – 70kg, 90kg and +90kg
Prizes:
Medals to 1st to 3rd in each class
Prizes to King and Queen of Table (Money – to be definied)
Best athlete of the day
Best match of the day (man and woman)
All classes can receive other prizes depeding on possible sponsors.
Entree fees – limited and antecipaded:
Championship – R$60 per class or R$100 two classes
Workshop – 1st sale – R$99 – 20 spots
2nd sale – R$119 – 15 spots
After Party – 1st sale – R$89
2nd sale – to be defined
Party ticket includes 2h of free beer, soda, vodka, finger foods and sushi.
Limited invites!! Only for 18yo and older!!
Rules:
The tournament will be under WAF rules
The athletes must compete in pants (not jeans) and event official t-shirt
Source: Armwrestling Open Gabriela Vasconcelos – facebook event
Facebook Notice for EU! You need to login to view and post FB Comments!