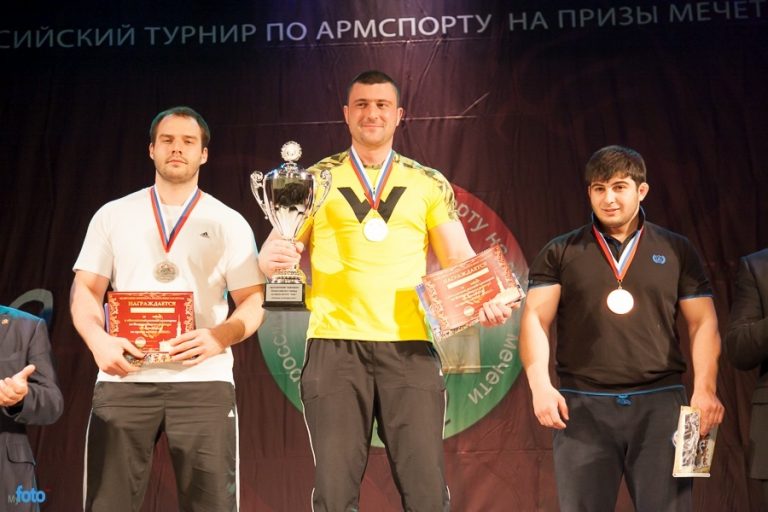 The tournament was organized (the same as last year Anas 2013 – Chistopol) by the beautiful WAF Master Referee, European and World champion armwrestler – Venera Urazgildeeva of Chistopol Armsport Association.
Andrey Pushkar took the second place in the ARMLIFTING competition, but he won (as expected) the Absolute / Open Class in the armwrestling competition.
The surprise of the competition was Eldar Aliskendarov. Eldar last year became the world champion in the JUNIOR21 MEN RIGHT 90 KG category, but at this competition he won the first place in the same category with Ivan Matyushenko. Eldar competed in 3 categories: 1. JUNIORS +75 KG – 1st place; 2. MEN 110 KG – 1st place; 3. MEN ABSOLUTE / OPEN CATEGORY – 3rd place overall (4th place with each hand).
(If you copy this results table, please also add a link to this article)
Russian armwrestling tournament for the prizes of the mosque "ANAS", 28 – 30 March 2014, Chistopol, Republic of Tatarstan, Russia
Number of participants:
164
Number of teams:
23
Are Tatarstan, Moscow, KCR, ChUVAShIJa, Vologda Region, Moscow Region, North Ossetia-Alania, Dagestan, Krasnodar krai., Udmurtia, Saratov., Bashkortostan, Chechnya Feminized REP., H IZHEGORODSKAYA OBL., Samara., Kalmykia, Ulyanov ., Orenburg., PERM CD., Stavropol kr., Rostov., Astrakhan region., Volgograd
GIRLS 60 KG
| | | | | | | | | | |
| --- | --- | --- | --- | --- | --- | --- | --- | --- | --- |
| Number | Name | Qualification | Subject of the Russian Federation | Left | Points | right | Points | Total | Weight |
| 1 | Nadezhda Koroleva | CCM | REP. TATARSTAN | 1 | 25 | 1 | 25 | 50 | 60 kg |
| 2 | Fazdalova Adela | CCM | REP. TATARSTAN | 3 | 9 | 2 | 17 | 26 | 58.1 kg |
| 3 | Muftahutdinova Violetta | 1p. | REP. TATARSTAN | 2 | 17 | 5 | 3 | 20 | 55 kg |
| 4 | Galiullina Alina | 1p. | REP. TATARSTAN | 4 | 5 | 3 | 9 | 14 | 57 kg |
| 5 | Alisa Ivanova | 1p. | REP. TATARSTAN | 7 | 0 | 4 | 5 | 5 | 60 kg |
| 6 | Vladimirov Olga | CCM | REP. KALMYKIA | 5 | 3 | 7 | 0 | 3 | 55.6 kg |
| 7 | Ochirova Zayana | 2p. | REP. KALMYKIA | 10 | 0 | 6 | 2 | 2 | 60 kg |
| 8 | Passage Daria | 1p. | Stavropol kr. | 6 | 2 | 10 | 0 | 2 | 69 kg |
| 9 | Christina Garanina | 1p. | REP. TATARSTAN | 8 | 0 | 9 | 0 | 0 | 52 kg |
| 10 | Catherine Bulashova | 1p. | REP. TATARSTAN | 9 | 0 | 8 | 0 | 0 | 56 kg |
| 11 | Zaripov Vasil | 2p. | In ologodskaya OBL. | 11 | 0 | 11 | 0 | 0 | 58kg |
GIRLS +60 KG
| | | | | | | | | | |
| --- | --- | --- | --- | --- | --- | --- | --- | --- | --- |
| Number | Name | Qualification | Subject of the Russian Federation | Left | Points | right | Points | Total | Weight |
| 1 | Victoria Voronina | CCM | REP. TATARSTAN | 1 | 25 | 1 | 25 | 50 | 82 kg |
| 2 | Gatiyatullin ilyuzy | CCM | REP. TATARSTAN | 2 | 17 | 2 | 17 | 34 | 66,7 kg |
| 3 | Zoryankina Xenia | CCM | REP. TATARSTAN | 6 | 2 | 3 | 9 | 11 | 61,2 kg |
| 4 | Zaznobina Natalia | CCM | REP. TATARSTAN | 3 | 9 | 6 | 2 | 11 | 62,1 kg |
| 5 | Malkov Ekaterina | CCM | REP. TATARSTAN | 4 | 5 | 4 | 5 | 10 | 64,5 kg |
| 6 | Marienkov Valeria | CCM | REP. TATARSTAN | 9 | 0 | 5 | 3 | 3 | 75 kg |
| 7 | Tazetdinova Ilvira | 2p. | Ulyanovsk region. | 5 | 3 | 11 | 0 | 3 | 68,8 kg |
| 8 | Ochirova Danara | 2p. | REP. KALMYKIA | 7 | 0 | 7 | 0 | 0 | 70 kg |
| 9 | Elena Galtsova | 1p. | REP. TATARSTAN | 8 | 0 | 8 | 0 | 0 | 64,3 kg |
| 10 | Elena Mannanova | 1p. | REP. TATARSTAN | 10 | 0 | 9 | 0 | 0 | 80 kg |
| 11 | Kulusheva Elizabeth | 1p. | REP. TATARSTAN | 11 | 0 | 10 | 0 | 0 | 67 kg |
WOMEN ABSOLUTE / OPEN CATEGORY
| | | | | | | | | | |
| --- | --- | --- | --- | --- | --- | --- | --- | --- | --- |
| Number | Name | Qualification | Subject of the Russian Federation | Left | Points | right | Points | Total | Weight |
| 1 | Victoria Voronina | CCM | REP. TATARSTAN | 2 | 17 | 1 | 25 | 42 | 82 kg |
| 2 | Eugene Fomin | MSIC | REP. TATARSTAN | 1 | 25 | 5 | 3 | 28 | 81 kg |
| 3 | Alina Samotoy | ZMS | MOSCOW | 3 | 9 | 2 | 17 | 26 | 99 kg |
| 4 | Ahmetgareeva Sofia | MSIC | MOSCOW REGION. | 5 | 3 | 3 | 9 | 12 | 75 kg |
| 5 | Elena Voronchihina | MS | PERM CD. | 6 | 2 | 4 | 5 | 7 | 71.5 kg |
| 6 | Khalfina Julia | MS | REP. BASHKIRIA | 4 | 5 | 7 | 0 | 5 | 51. 8 kg |
| 7 | Mussina Dilbar | MS | REP. TATARSTAN | 7 | 0 | 6 | 2 | 2 | 65 kg |
| 8 | Haybullova Alina | CCM | REP. TATARSTAN | 8 | 0 | 9 | 0 | 0 | 57.7 kg |
| 9 | Gabdullina Gulnaz | 1p. | REP. BASHKIRIA | 9 | 0 | 8 | 0 | 0 | 81.2 kg |
| 10 | Inna Malivanova | 1p. | Krasnodar krai. | 10 | 0 | 10 | 0 | 0 | 79 kg |
JUNIORS MEN 65 KG
| | | | | | | | | | |
| --- | --- | --- | --- | --- | --- | --- | --- | --- | --- |
| Number | Name | Qualification | Subject of the Russian Federation | Left | Points | right | Points | Total | Weight |
| 1 | Shamil Isayev | CCM | Volga OGRADSKAYA OBL. | 2 | 17 | 2 | 17 | 34 | 65 kg |
| 2 | Kurbanov Arthur | CCM | REP. TATARSTAN | 6 | 2 | 1 | 25 | 27 | 65 kg |
| 3 | Ryabkov Ilya | CCM | REP. TATARSTAN | 1 | 25 | 14 | 0 | 25 | 65 kg |
| 4 | Minhasapov Ilfat | CCM | REP. TATARSTAN | 3 | 9 | 4 | 5 | 14 | 62,5 kg |
| 5 | Alexei Shashov | CCM | REP. TATARSTAN | 4 | 5 | 3 | 9 | 14 | 64,8 kg |
| 6 | Mannanov Aynur | CCM | REP. BASHKIRIA | 10 | 0 | 5 | 3 | 3 | 64,6 kg |
| 7 | Valery Chinayev | 1p. | Stavrop Olsk CD. | 5 | 3 | 19 | 0 | 3 | 63,8 kg |
| 8 | Michael Miagkov | CCM | Volga OGRADSKAYA OBL. | 17 | 0 | 6 | 2 | 2 | 63,4 kg |
| 9 | Vugar Seidov | CCM | REP. TATARSTAN | 11 | 0 | 7 | 0 | 0 | 59,9 kg |
| 10 | Zhuravlev Evgenii | 1p. | REP. TATARSTAN | 12 | 0 | 9 | 0 | 0 | 63,3 kg |
| 11 | Fatkhullin Aynur | 1p. | REP. TATARSTAN | 15 | 0 | 8 | 0 | 0 | 58,8 kg |
| 12 | Ants Ilya | CCM | REP. TATARSTAN | 7 | 0 | 16 | 0 | 0 | 60 kg |
| 13 | Nosirov Muhammaddzhon | 1p. | REP. TATARSTAN | 14 | 0 | 10 | 0 | 0 | 64,8 kg |
| 14 | Babak Huseynov | 1p. | REP. TATARSTAN | 9 | 0 | 15 | 0 | 0 | 65 kg |
| 15 | Pergushev Vladislav | 1p. | REP. TATARSTAN | 8 | 0 | 17 | 0 | 0 | 60 kg |
| 16 | Alexander Yakunin | 1p. | REP. TATARSTAN | 18 | 0 | 12 | 0 | 0 | 61 kg |
| 17 | Kurbanov Kadi | 1p. | Stavrop Olsk CD. | 20 | 0 | 11 | 0 | 0 | 65 kg |
| 18 | Shemyakin Maxim | 1p. | REP. UDMURTIYA | 13 | 0 | 21 | 0 | 0 | 60 kg |
| 19 | Mandzhiev Valentin | 1p. | REP. KALMYKIA | 21 | 0 | 13 | 0 | 0 | 65 kg |
| 20 | Sergey Shustov | 1p. | REP. UDMURTIYA | 16 | 0 | 20 | 0 | 0 | 56,6 kg |
| 21 | Andrew Labazov | 1p. | REP. TATARSTAN | 19 | 0 | 18 | 0 | 0 | 64,7 kg |
| | | | | | | | | | |
JUNIORS 75 KG
| | | | | | | | | | |
| --- | --- | --- | --- | --- | --- | --- | --- | --- | --- |
| Number | Name | Qualification | Subject of the Russian Federation | Left | Points | right | Points | Total | Weight |
| 1 | Shakhsenem Wazir | By CCM | REP. Dagestan | 1 | 25 | 6 | 2 | 27 | 73 kg |
| 2 | Makarov Arthur | MS | RESP.TATARSTAN | 15 | 0 | 1 | 25 | 25 | 75 kg |
| 3 | Chuprunov Anton | CCM | REP. BASHKIRIA | 4 | 5 | 2 | 17 | 22 | 73,2 kg |
| 4 | Baichorov Islam | 1p. | STAVROP.KRAY | 2 | 17 | 5 | 3 | 20 | 75 kg |
| 5 | Arthur Gizdatullin | CCM | RESP.TATARSTAN | 3 | 9 | 3 | 9 | 18 | 73,3 kg |
| 6 | Peter Kalinin | CCM | RESP.TATARSTAN | 16 | 0 | 4 | 5 | 5 | 75 kg |
| 7 | Galiullin Ranis | CCM | RESP.TATARSTAN | 5 | 3 | 9 | 0 | 3 | 68 kg |
| 8 | Alexander Leskov | CCM | RESP.TATARSTAN | 6 | 2 | 7 | 0 | 2 | 75 kg |
| 9 | Tazetdinov Damir | CCM | Hive. OBL. | 9 | 0 | 8 | 0 | 0 | 72,6 kg |
| 10 | Eugene scoops | 1p. | RESP.TATARSTAN | 7 | 0 | 10 | 0 | 0 | 74,8 kg |
| 11 | Alexey Nikolaev | 1p. | RESP.TATARSTAN | 10 | 0 | 11 | 0 | 0 | 74 kg |
| 12 | Salah Aynur | 1p. | RESP.TATARSTAN | 8 | 0 | 15 | 0 | 0 | 71,4 kg |
| 13 | Vadim scoops | 1p. | RESP.TATARSTAN | 13 | 0 | 13 | 0 | 0 | 74,1 kg |
| 14 | Khannanov Roman | 2p. | Udmurtia. REP | 12 | 0 | 14 | 0 | 0 | 75 kg |
| 15 | Kharisov Diamond | 1p. | RESP.TATARSTAN | 11 | 0 | 17 | 0 | 0 | 75 kg |
| 16 | Hanafeev Aynur | 1p. | Astrakhan region. | 17 | 0 | 12 | 0 | 0 | 75 kg |
| 17 | Andrey Yakimov | 2p. | Udmurtia. REP | 14 | 0 | 16 | 0 | 0 | 70,1 kg |
| 18 | Denis Tolmachev | 1p. | Belogorodskaya region. | 18 | 0 | 18 | 0 | 0 | 74.5 |
JUNIORS +75 KG
| | | | | | | | | | |
| --- | --- | --- | --- | --- | --- | --- | --- | --- | --- |
| Number | Name | Qualification | Subject of the Russian Federation | Left | Points | right | Points | Total | Weight |
| 1 | Eldar Aliskendarov | MS | REP. Dagestan | 1 | 25 | 1 | 25 | 50 | 103 kg |
| 2 | Khousainov Insaf | By MS | REP. TATARSTAN | 3 | 9 | 2 | 17 | 26 | 87,3 kg |
| 3 | SHarafutdinov Damir | 1p. | Ulyanovsk region. | 2 | 17 | 7 | 0 | 17 | 84,6 kg |
| 4 | Milyakin Igor | 1p. | Ulyanovsk region. | 7 | 0 | 3 | 9 | 9 | 82,8 kg |
| 5 | Alexander Zorin | 1p. | REP. TATARSTAN | 5 | 3 | 4 | 5 | 8 | 88,2 kg |
| 6 | Tolkachov Vladislav | 1p. | REP. TATARSTAN | 4 | 5 | 6 | 2 | 7 | 81,6 kg |
| 7 | Zaripov Diamond | 1p. | REP. TATARSTAN | 9 | 0 | 5 | 3 | 3 | 81 kg |
| 8 | Gulan Nikita | 1p. | ORENBURGSKAYA OBL. | 6 | 2 | 8 | 0 | 2 | 78,3 kg |
| 9 | Shaimukhametov Rail | 1p. | REP. TATARSTAN | 8 | 0 | 9 | 0 | 0 | 81,5 kg |
| 10 | Vladimir Zaikonnikov | By MS | REP. TATARSTAN | 10 | 0 | 10 | 0 | 0 | 78 kg |
MEN 60 KG
| | | | | | | | | | |
| --- | --- | --- | --- | --- | --- | --- | --- | --- | --- |
| Number | Name | Qualification | Subject of the Russian Federation | Left | Points | right | Points | Total | Weight |
| 1 | Gilmutdinov Diamond | CCM | REP. TATARSTAN | 3 | 9 | 1 | 25 | 34 | 60 kg |
| 2 | Gimadiev Marat | CCM | MOSCOW | 1 | 25 | 4 | 5 | 30 | 60 kg |
| 3 | Ziyatdinov Irek | MS | REP. TATARSTAN | 2 | 17 | 3 | 9 | 26 | 59 kg |
| 4 | Faizullin Danil | CCM | REP. TATARSTAN | 13 | 0 | 2 | 17 | 17 | 59,8 kg |
| 5 | Kalash Alexander | CCM | Nizhny Novgorod region. | 4 | 5 | 12 | 0 | 5 | 59,9 kg |
| 6 | Galiullin Ravil | CCM | REP. TATARSTAN | 6 | 2 | 6 | 2 | 4 | 60 kg |
| 7 | Igor Fyodorov | 1p. | ORENBURG.OBL. | 5 | 3 | 7 | 0 | 3 | 54,6 kg |
| 8 | Kalash Nikolai | By MS | Nizhny Novgorod region. | 7 | 0 | 5 | 3 | 3 | 59,4 kg |
| 9 | Ants Ilya | By MS | REP. TATARSTAN | 10 | 0 | 8 | 0 | 0 | 60 kg |
| 10 | Vugar Seidov | By MS | REP. TATARSTAN | 9 | 0 | 10 | 0 | 0 | 59,9 kg |
| 11 | Pergushev Vladislav | 1p. | REP. TATARSTAN | 8 | 0 | 14 | 0 | 0 | 60 kg |
| 12 | Dmitry Manzhikov | 2p. | REP. KALMYKIA | 12 | 0 | 11 | 0 | 0 | 59,6 kg |
| 13 | Tokushev Diamond | 1p. | REP. TATARSTAN | 14 | 0 | 9 | 0 | 0 | 60 kg |
| 14 | Fatkhullin Aynur | 1p. | REP. TATARSTAN | 11 | 0 | 13 | 0 | 0 | 58,8 kg |
| 15 | Chiprikov Ali | CCM | Karachai-CHERKES.RESP. | 15 | 0 | 15 | 0 | 0 | 60 kg |
MEN 75 KG
| | | | | | | | | | |
| --- | --- | --- | --- | --- | --- | --- | --- | --- | --- |
| Number | Name | Qualification | Subject of the Russian Federation | Left | Points | right | Points | Total | Weight |
| 1 | Halikov Magomedveli | MS | REP. Dagestan | 2 | 17 | 3 | 9 | 26 | 75 kg |
| 2 | Kadyrov Salavat | By MS | REP. TATARSTAN | 1 | 25 | 15 | 0 | 25 | 75 kg |
| 3 | Makarov Arthur | MS | REP. TATARSTAN | 19 | 0 | 1 | 25 | 25 | 73 kg |
| 4 | Auhadiev Il'nur | By MS | REP. TATARSTAN | 16 | 0 | 2 | 17 | 17 | 75 kg |
| 5 | Vadim Kuznetsov | MS | REP. TATARSTAN | 4 | 5 | 4 | 5 | 10 | 75 kg |
| 6 | Gluhov Aleksandrov | By MS | SAMARA REGION. | 3 | 9 | 7 | 0 | 9 | 71,2 kg |
| 7 | Gabdurahmanov Bulat | 1p. | REP. TATARSTAN | 10 | 0 | 5 | 3 | 3 | 75 kg |
| 8 | Shakhsenem Wazir | CCM | REP. Dagestan | 5 | 3 | 17 | 0 | 3 | 73 kg |
| 9 | Alexei Semenov | CCM | REP. Chuvashia DICE | 6 | 2 | 9 | 0 | 2 | 75 kg |
| 10 | Badmaev Danzan | MMR | REP. KALMYKIA | 21 | 0 | 6 | 2 | 2 | 74,5 kg |
| 11 | Farid Mubarakov | MS | REP. TATARSTAN | 9 | 0 | 12 | 0 | 0 | 75 kg |
| 12 | Arthur Badmaev | 1p. | REP. KALMYKIA | 8 | 0 | 13 | 0 | 0 | 75 kg |
| 13 | Edward Gumin | MS | REP. TATARSTAN | 7 | 0 | 16 | 0 | 0 | 75 kg |
| 14 | Alexey Bykov | 1p. | Nizhny Novgorod region. | 15 | 0 | 8 | 0 | 0 | 75 kg |
| 15 | Akhmetshin Bulat | 1p. | REP. TATARSTAN | 14 | 0 | 10 | 0 | 0 | 74,5 kg |
| 16 | Kosvintsev Ivan | 1p. | Ulyanovsk AYA OBL. | 13 | 0 | 14 | 0 | 0 | 72 kg |
| 17 | Haybulov Elnar | 1p. | REP. TATARSTAN | 17 | 0 | 11 | 0 | 0 | 69,6 kg |
| 18 | Chuprunov Anton | 1p. | REP. BASHKIRIA | 11 | 0 | 18 | 0 | 0 | 73,2 kg |
| 19 | Truboba Alexander | 1p. | Stavropol kr. | 12 | 0 | 20 | 0 | 0 | 74,9 kg |
| 20 | Peter Kalinin | CCM | REP. TATARSTAN | 18 | 0 | 21 | 0 | 0 | 72,4 kg |
| 21 | Egorov Savr | 1p. | REP. KALMYKIA | 20 | 0 | 19 | 0 | 0 | 75 kg |
| 22 | Alakai Shamil | CCM | CHECHEN REP. | 22 | 0 | 22 | 0 | 0 | 75 kg |
MEN 90 KG
| | | | | | | | | | |
| --- | --- | --- | --- | --- | --- | --- | --- | --- | --- |
| Number | Name | Qualification | Subject of the Russian Federation | Left | Points | right | Points | Total | Weight |
| 1 | Alexei Rumyantsev | MS | REP. TATARSTAN | 1 | 25 | 1 | 25 | 50 | 90 kg |
| 2 | Grishin Andrey | MS | REP. TATARSTAN | 2 | 17 | 2 | 17 | 34 | 81,2 kg |
| 3 | Oleg Krasil'nikov | CCM | SAMARA REGION. | 5 | 3 | 3 | 9 | 12 | 90 kg |
| 4 | Danasienko Sebastian | MS | REP. UDMURTIYA | 3 | 9 | 5 | 3 | 12 | 90 kg |
| 5 | Dmitry Klimkin | 1p. | Volgograd region. | 4 | 5 | 7 | 0 | 5 | 81,5 kg |
| 6 | Khousainov Radik | 1p. | ORENBURGSKAYA OBL. | 9 | 0 | 4 | 5 | 5 | 90 kg |
| 7 | Khousainov Insaf | 1p. | REP. TATARSTAN | 7 | 0 | 6 | 2 | 2 | 87,3 kg |
| 8 | Albert Al'mukhametov | MS | REP. Udmurtia DICE | 6 | 2 | 12 | 0 | 2 | 88,9 kg |
| 9 | Vitaly Shagalin | 1p. | REP. TATARSTAN | 8 | 0 | 11 | 0 | 0 | 89,5 kg |
| 10 | Gainutdinov Reval | 1p. | REP. TATARSTAN | 11 | 0 | 9 | 0 | 0 | 89,1 kg |
| 11 | Ruslan Badukshanov | 1p. | REP. BASHKIRIA | 14 | 0 | 8 | 0 | 0 | 88,8 kg |
| 12 | Tyutin Eugene | 1p. | REP. TATARSTAN | 13 | 0 | 10 | 0 | 0 | 83 kg |
| 13 | Alexander Zorin | 1p. | REP. TATARSTAN | 10 | 0 | 15 | 0 | 0 | 88,2 kg |
| 14 | Zagidullin Anis | 1p. | REP. TATARSTAN | 12 | 0 | 13 | 0 | 0 | 90 kg |
| 15 | Rumyantsev Leo | CCM | REP. TATARSTAN | 16 | 0 | 14 | 0 | 0 | 90 kg |
| 16 | Michael Fedyaev | CCM | REP. TATARSTAN | 15 | 0 | 16 | 0 | 0 | 90 kg |
| 17 | Archegov Alexander | MS | North Ossetia-Alania | 17 | 0 | 17 | 0 | 0 | 90 kg |
| 18 | Belvarov Roman | CCM | ROSTOVSKAJa OBL. | 18 | 0 | 18 | 0 | 0 | 87 kg |
MEN 110 KG
| | | | | | | | | | |
| --- | --- | --- | --- | --- | --- | --- | --- | --- | --- |
| Number | Name | Qualification | Subject of the Russian Federation | Left | Points | right | Points | Total | Weight |
| 1 | Eldar Aliskendarov | MS | REP. Dagestan | 2 | 17 | 1 | 25 | 42 | 103 kg |
| 2 | Ivan Matyushenko | ZMS | MOSCOW | 1 | 25 | 2 | 17 | 42 | 107 kg |
| 3 | Kachmazov Slavik | NW MS | SAMARSKIH AYA OBL. | 4 | 5 | 3 | 9 | 14 | 98,4 kg |
| 4 | Yuri Petrov | MS | Volgogr Hellfire OBL. | 3 | 9 | 5 | 3 | 12 | 95 kg |
| 5 | Urov Eugene | CCM | REP. TATARSTAN | 5 | 3 | 6 | 2 | 5 | 104 kg |
| 6 | Tazetdinov Zoufar | MS | Hive ovskom OBL. | 12 | 0 | 4 | 5 | 5 | 105 kg |
| 7 | Denis Rilov | MS | REP. TATARSTAN | 6 | 2 | 8 | 0 | 2 | 103 kg |
| 8 | Kostromitin Alexander | 1p. | SAMARSKIH AYA OBL. | 8 | 0 | 9 | 0 | 0 | 98,4 kg |
| 9 | Alexei Bolduev | MMR | SAMARSKIH AYA OBL. | 10 | 0 | 7 | 0 | 0 | 108 kg |
| 10 | Edward Khisamutdinov | 1p. | REP. TATARSTAN | 9 | 0 | 12 | 0 | 0 | 93,8 kg |
| 11 | Dushutina Igor | 1p. | SARATOV Skye OBL. | 7 | 0 | 14 | 0 | 0 | 101 kg |
| 12 | Zaripov Mirat | 1p. | REP. TATARSTAN | 13 | 0 | 11 | 0 | 0 | 97 kg |
| 13 | Nazirbekov Abdurazak | 1p. | Stavrop Olsk CD. | 14 | 0 | 10 | 0 | 0 | 103 kg |
| 14 | Sergei Kalinin | MS | REP. TATARSTAN | 11 | 0 | 13 | 0 | 0 | 107 kg |
| 15 | Zelyabin Roman | 1p. | Astrakhan reg. | 15 | 0 | 15 | 0 | 0 | 102 |
MEN ABSOLUTE / OPEN CATEGORY
| | | | | | | | | | |
| --- | --- | --- | --- | --- | --- | --- | --- | --- | --- |
| Number | Name | Qualification | Subject of the Russian Federation | Left | Points | right | Points | Total | Weight |
| 1 | Andrey Pushkar | ZMS | UKRAINE | 1 | 25 | 1 | 25 | 50 | 125 kg |
| 2 | Ivan Matyushenko | NW MS | MOSCOW | 2 | 17 | 2 | 17 | 34 | 107 kg |
| 3 | Eldar Aliskendarov | MS | REP. Dagestan | 4 | 5 | 4 | 5 | 10 | 99 kg |
| 4 | Ymir Agashirinov | MS | MOSCOW | 3 | 9 | 7 | 0 | 9 | 124 kg |
| 5 | Vladimir Tarasov | MS | Nizhny Novgorod region. | 9 | 0 | 3 | 9 | 9 | 131 kg |
| 6 | Alexei Rumyantsev | MS | REP. TATARSTAN | 8 | 0 | 5 | 3 | 3 | 90 kg |
| 7 | Kachmazov Slavik | ZMS | SAMARA REGION. | 5 | 3 | 8 | 0 | 3 | 105 kg |
| 8 | Zahir Asibakov | MS | REP. TATARSTAN | 6 | 2 | 12 | 0 | 2 | 120 kg |
| 9 | Yuri Petrov | MS | Volgograd region. | 13 | 0 | 6 | 2 | 2 | 95 kg |
| 10 | Grishin Andrey | MS | REP. TATARSTAN | 7 | 0 | 9 | 0 | 0 | 81 kg |
| 11 | Halikov Magomedveli | MS | REP. Dagestan | 10 | 0 | 11 | 0 | 0 | 76 kg |
| 12 | Alexei Bolduev | CCM | SAMARA REGION. | 11 | 0 | 13 | 0 | 0 | 107 kg |
| 13 | Michael Fedyaev | CCM | REP. TATARSTAN | 12 | 0 | 14 | 0 | 0 | 83 kg |
| 14 | Urov Eugene | CCM | REP. TATARSTAN | 17 | 0 | 10 | 0 | 0 | 100 kg |
| 15 | Peter Kalinin | CCM | REP. TATARSTAN | 15 | 0 | 16 | 0 | 0 | 69 kg |
| 16 | Nail Motygullin | MS | REP. TATARSTAN | 14 | 0 | 17 | 0 | 0 | 120 kg |
| 17 | Shelukhin Roman | CCM | REP. KALMYKIA | 16 | 0 | 15 | 0 | 0 | 125 kg |
Referees assembly
| | | | | |
| --- | --- | --- | --- | --- |
| Number | FI | Region | Officialscategory | Post |
| 1 | Petrov Andrey Mikhailovich | Moscow | VC | Chief Referee |
| 2 | Paramonov Ilya | Moscow | VC | Zam.gl.sudi |
| 3 | Oleg Solomahin | Tatarstan | VC | Zam.gl.sudi |
| 4 | Lily Khamidullina | Tatarstan | 1 | Deputy. Chap. Secretary |
| 5 | Parapanov Igor | Saratov | 1 | Referee |
| 6 | Dushutina Igor | Saratov | 1 | Referee |
| 7 | Ruslan Afanasiev | Volgograd | 1 | Referee |
| 8 | Vladimir Zaikonnikov | Tatarstan | 1 | Referee |
| 9 | Michael Fedyaev | Tatarstan | 1 | Referee |
| 10 | Fayskhanov Ildar | Tatarstan | 1 | referee |
| 11 | Rafikova Alfiya | Tatarstan | 1 | Referee |
| 12 | Alexei Zakharov | Tatarstan | 1 | Referee |
| 13 | Fayskhanova Julia | Tatarstan | 1 | Referee |
| 14 | Blokhin Sergey | Tatarstan | 1 | Referee |
| 15 | Makarov Arthur | Tatarstan | 1 | Referee |
| 16 | Victoria Voronina | Tatarstan | 1 | Referee |
| 17 | Garanina Victoria | Tatarstan | 1 | Referee |
| 18 | Eugene Fomin | Tatarstan | 1 | Referee |
| | | | | |
(If you copy this results table, please also add a link to this article)