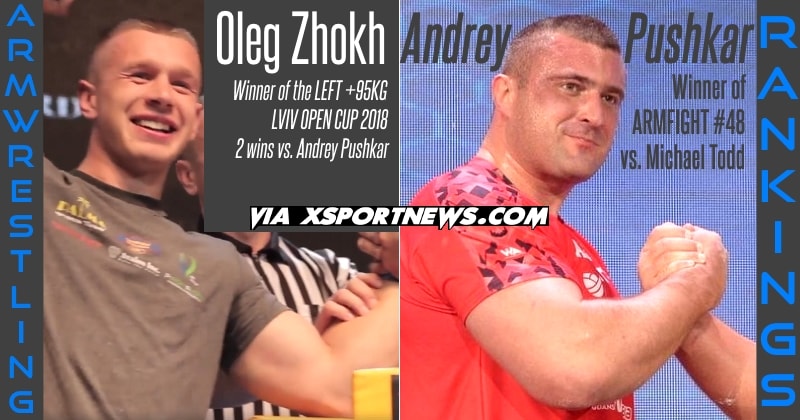 Please scroll down and read what it is written after the rankings, in order to understand how the rankings work and to see the changelog.
UPDATE (11 July 2018): Dmitry Trubin was removed from the left hand rankings after what happened at ZG STRONG 2018. Viacheslav Sharagovich was the first one who almost pinned Trubin with left hand, he got him tired. Next Trubin lost with Manuel Battaglia, won 2 matches and lost with Markus Liebminger – this was his last match with left hand (watch the matches here ►  ZG STRONG 2018). Viacheslav Sharagovich, Manuel Battaglia and Markus Liebminger were not in the top 20 therefore Dmitry Trubin was removed from the top 20 left hand rankings to reflect the current state of his left arm. All other armwrestlers moved one position up.
THESE RANKINGS ARE SUBJECTIVE. We have a chat group where voters discuss about the armwrestling events. Although all voters watch the same matches they often have very different opinions about what happened there. One example: the recent left hand matches between Oleg Zhokh vs. Andrey Pushkar – some voters believed that Pushkar didn't do his best, they were not convinced that Oleg deserves to be no. 1 yet… There are different opinions regarding the rankings all the time, therefore I believe it is impossible to have objective rankings.
TENNIS HAS GOOD RANKINGS. In tennis there is absolutely no way to go fast at the top of the rankings. If a tennis player comes back after a break of 1 year, even if he wins a Grand Slam tournament (which means many tough matches with top players) he doesn't become number 1. It is a very slow process, you have to compete and win a lot of matches in well ranked tournaments to get enough points, in order to get at the top of the rankings. If we would try to apply a similar points system in armwrestling then Denis Cyplenkov, who now competes only once in 2 years in Vendettas, would never enter the top 20 rankings even if he wins each time.
CONCLUSION. We only have subjective rankings, but considering that some armwrestlers don't compete too much, making a points system in armwrestling would not look good for some top armwrestlers.
| | |
| --- | --- |
| LEFT HAND: BEST ARMWRESTLERS | RIGHT HAND: BEST ARMWRESTLERS |
| | |
| | |
| | |
| | |
| | |
| | |
| | |
| | |
| | |
| | |
| | |
| | |
| | |
| | |
| | |
| | |
| | |
| | |
| | |
| | |
How the rankings work:
These rankings are a mean of 6 different rankings (from 6 voters). Each voter makes his own rankings list. The position of each armwrestler in each list is important because it is used to make a mean.
       Current voters (11 July 2018): Josh Handeland, Giorgi Chochia, Constantin Mihai, Kevin Wolf, Alper Cosar, Ciprian Valean (in no particular order). Scroll down to see the conditions to become a voter.
We are still looking for voters, these are the conditions to become a voter in these rankings:
1. You should be following the sport of armwrestling for at least 4-5 years, and other armwrestlers should know you;
2. You should have knowledge of the results from the big armwrestling events, which change the rankings;
3. You should be accepted as voter by the current voters.
Why these new rankings ? After I saw what happened in the WORLD ARMWRESTLING RANKINGS by Votes (where many votes were… not objective), I realized two things: 1. Patriotism is not just a simple word for some voters 🙂 ; 2. The rankings should be made by armwrestlers who really follow this sport and have knowledge about it, but I knew it will not be easy, especially because of the communication issues.
Changelog:
04 December 2017: The rankings were updated, considering what happened at ARMFIGHT #48 Vendetta and at Zloty Tur 2017, See ► RESULTS: ARMFIGHT #48 VENDETTA ALL STARS and ► RESULTS: Zloty Tur 2017 World Cup
03 July 2018: THE RANKINGS WERE UPDATED CONSIDERING WHAT HAPPENED AT EuroArm 2018, LVIV OPEN CUP 2018, WAL events and in other armwrestling events. Ermes Gasparini was removed because he didn't compete for more than 1 year. Other armwrestlers were removed and some were added.
21 September 2017: The rankings were updated considering what happened at WorldArm 2017, See ► RESULTS: WORLDARM 2017: 39th World Armwrestling Championships 2017 (WAF). This time only 4 voters voted, therefore some changes were made all over the rankings.
25 July 2017: Denis Cyplenkov was removed from the right hand rankings, because he competed last time on 22 July 2016 ► RESULTS: ARMFIGHT #46 VENDETTA ALL STARS, LAS VEGAS, PHOTOS
All armwrestlers who were below Cyplenkov moved one place up. We only show top 20, but the voters vote using a bigger list of armwrestlers.
09 July 2017: The rankings were updated considering what happened at WAL 2017 CHAMPIONSHIP FINALS and at ZG STRONG 2017 WORLD ARMWRESTLING CUP.
02 June 2017: New additions: Sasho Andreev, Evgeny Prudnik – left hand; Vitaly Laletin, Sasho Andreev, Evgeny Prudnik – right hand. Some armwrestlers were removed because they didn't compete for more than 1 year.
10 April 2017: We have 3 new voters: Giorgi Chochia (Georgia), Constantin Mihai (Romania), Ryan Bowen (Australia). Side by side rankings from all the voters (in no particular order) were added.
26 July 2016: Denis Cyplenkov was added to the rankings and other changes were made in the right hand rankings considering the RESULTS: ARMFIGHT #46 VENDETTA ALL STARS, LAS VEGAS, PHOTOS. We have a new voter: Alejandro De Gyves – he is pulling for about 20 years, and he makes the rankings in Mexico.
01 July 2016: In these rankings was taken into consideration the fact that Travis Bagent won over Dave Chaffee (right hand) at WAL Las Vegas 2016 finals.
These rankings will be updated often – after any armwrestling event which change the rankings.
—
Other rankings / ratings you should check out:
1. Engin Terzi's rankings ► PAL RANKING
—