Ievgenii Prudnyk is an actor-singer at Kiev National Academic Theatre of Operetta, and he is another vegetarian armwrestler whose diet doesn't include meat.
Original article – IronWorld.ru │ Google Translate:

" Today the "Iron World" would like to introduce you to an athlete whose performance at the European Championships in 2013 can be called sensational. That he was able to win on his right hand in the 85 kg class armsportsmenom strongest over the world – Rustam Babaev. Ten consecutive years of losses Rustam did not know at the European championships. And found a competitor who challenged and defeated Rustam. It appeared to be his countryman and teammate Evgeni Prudnyk (Ukraine), in which we interviewed.

IRON WORLD: Eugene, how you came to armsport? How did your training? Who is your coach?
Eugene Prudnyk: First there was the Metallurgical Academy … the competitions between departments. I was invited to participate, and I agreed. Competitions were held without weight categories among people who had no idea about armsportu. I looked at a seven foot big man weighing 120 kg and dropped a phrase: "I think I know who will be first!" But my friend interrupted me: "You're wrong! This guy will be the first, "and pointed to one participant, who in all respects inferior to this big man. Of course, I did not believe it and was looking forward to their duel. And indeed, when they met, the forecast was justified. I still did not know any technique, and from the outside it seemed incredible spectacle while this big guy was yelling and shaking with tension, unrelenting champion with a smile revealed his fingers "top". I was surprised by this fight, but I thought it was probably just a big man weak. But when I saw the secret struggle, the sport became an enigma: the champion tried to keep two hands, but it was useless. I could not believe it, but it was true! No one could, even with both hands, put this man. His name is Dennis Shustik, later he became my first coach. He really Ukrainian champion and winner of Europe. And he also studied at the Academy of Metallurgical and decided, so to speak, to play around with amateurs.
As for me, I also never lost. The fact that the competitions were held for some unknown to me already and I have not met with Shustik or so husky.
After these events in my head did not come out armsport, and I decided to try it.
I myself tried to Dnepropetrovsk city competitions for juniors, when I was 17 years old. Without training and knowledge of equipment, I won 1st place at the right hand and the 2nd – on the left.
A month later, again without any preparations, went to the regional competitions for juniors and it took third place on his right hand. Then a month later followed by "Ukraine" Junior, where I took third place on the left. After that, I was even more breathtaking competitions and I started training. In the future, my coach was Vladislav Starokon, he showed me a lot of good exercises, some of them I carry to this day.
Now my coach is Vladimir Petrenko. I am infinitely grateful for the help and support he has provided me. I hope that in the future I will be even more pleasing his own achievements.

JM: Make a list of your most important titles and ranks.
EP: It is not important titles and ranks. For me the important decent, bright, colorful and professional wrestling.

JM: At the European Championships – 2013're on the right hand has won gold in the struggle with himself Rustam Babaev, who had ten consecutive years, had lesions in the struggle for European gold. And you fought before? Your emotions and impressions of the final match?
EP: Of course, when I won, very happy, because you want to not only participate, but to win, especially since I was struggling with an excellent athlete, a true professional. Yes, we fought before, because competing in the same weight class.

JM: What's your main rivals on the world stage?
EP: I respect each of his opponent, and I think that we are all human, and everyone can win as well as lose. For me, even there is no such thing as a "rival", and when I fight, it does not regard it as a war, but as a game. I just like to fight and be a part of arm wrestling. Every competition brings me new knowledge, questions, discoveries and experiences. I am glad that I can grow and develop in the sport.

JM: Tell me about your diet, there are some special diet?
EP: Special diets do not stick, except that I do not eat meat. Of them feel the weight, and in general do not like meat. It would seem a paradox, but without it I have a good appetite, can only eat a lot and often. I decided to do an experiment on himself and I feel that it suits me, and then – let's see. I try not to pollute your body with junk such as chips, crackers, coca-cola food "McDonald's", etc. I do not smoke and do not drink. My one weakness – it is sweet.

JM: What is your favorite exercise in armsportu? Your weight in the off-season, drove before the competition?
EP: All my favorite exercises, because each of them is like a nut in the overall system. Exercise a lot, but of course, I have set priorities and exercise basic – power – and more accurate, ie technical. I aspire to the ideal form, but always, when I come to the competition, I feel that not enough this and that. As a result, the ideal form to which I aspire, is not yet reached, but I think that in the future everything will be.
My weight is always equal to about 87 kg, is reset to 85.

JM: Have you ever had the desire to quit watching armsportu?
EP: At first it was, and very often, but when the desire arose, I won. That is, so I say to myself, so everything is the last event in which I participate, and go to another sport, and for some reason this competition is necessary to win, and everything was cool. Then I grasped it, and I started to train even more.

JM: Do you ever had to radically change something in your life?
EP: At first, I was in the Metallurgical Academy as an engineer and was planning to go to work at the factory, but then, in the summer, thanks to my parents, at sea, we started a business called "karaoke". There I felt raspelsya and a vocal talent, but to me it lacked expression, ie, filing, acting. So I decided to work on it, but nothing worked. Then, perhaps, fate brought or completely by chance, I got to play "Romeo and Juliet" in the walls of the Dnepropetrovsk Theater and Arts College. The director of this production Gregory Feodosievich Bogomaz-Babi. I loved how the students were playing, and I realized that there is much to teach. I believe their game and never for a moment doubted that. After the performance I went up to him and asked if I could at my age, and when I was 21, and learn to do it on the course. He said that just this year, picking up a course for training. I decided to try and do that. Then he studied in parallel on two daytime divisions. In Metallurgical Academy – the fifth year, and in the college's theater – on the ground. We had to pass here and there. And to make ends meet was very hard, but I succeeded. I finished the first course almost perfectly, and diploma on a well-defended. I slept for four hours a day. After that, I realized that the man is capable of anything, you only need to aim. I'm radically changed in their lives and seriously engaged in theater work. At first it was a lot of dead ends, and seemed desperate situations, but in this case I helped arm wrestling. He supported me as a person. In a short time I have achieved success in their studies, he began to feel a partner, the scene has learned to act, to find images and fittings. In the end I finished DTHK in "Actor".

JM: Where do you work? The work does not interfere with training?
EP: I work at the Kiev National Academic Theatre of Operetta actor-singer. Perfectly combines sport and work. The fact that I'm the kind of person who needs a change of heart and action. Laid out at work – go and enjoy a work-out, respectively, distracted from work, rest of it. Next rest of reinforcement at work and so on. Special thanks to our artistic director of the theater Bogdan Dmitrievichu Strutinskii for understanding. He lets me go to the main event, despite the heavy workload in the theater. So I'm doing a great job with the work and the preparation for championships.

JM: What's your sport plans for 2013?
EP: I plan to participate in the tournament A1, go to the World Cup and Nemiroff.

JM: What is your biggest challenge in the sport that you set for yourself?
EP: Self-knowledge. I do know yourself, explore, try yourself for strength, walking the razor's edge. Each competition – this is a test.

JM: Do you think that men are the most important thing to do in life?
EP: In my opinion, the most important thing for a man – be a man in any situation. And then – to build a house, plant a tree, raise a son and become the undisputed champion of the world!

Author: Andrei Sharkov "

Original article – IronWorld.ru │ Google Translate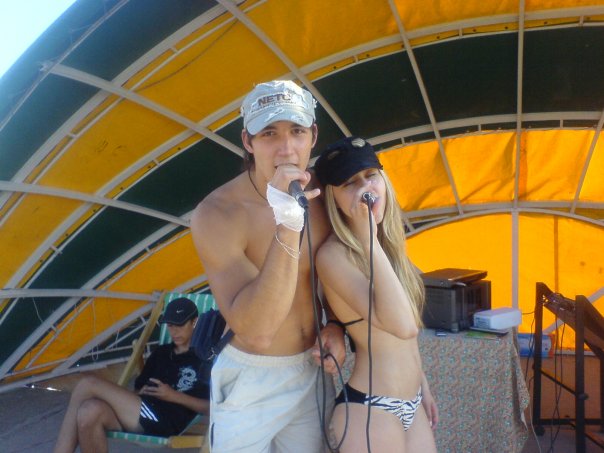 ______________________________________________________________________
In the next video, you can see Prudnik singing from 0:55 in The Phantom of the Opera musical:
(don't forget to change the video quality to 480p)
Евгений Прудник Призрак Оперы [Google Translate: Eugene Prudnyk Phantom of the Opera]

Uploaded on 3 May 2010

Евгений Прудник Призрак Оперы,The Phantom of the Opera , Студ весна 2010 Мед академия.

Google Translate:

Eugene Prudnyk Phantom of the Opera, The Phantom of the Opera, Spring 2010 Stud Med Academy.
Source: Gekaprudnik